Cattle Weighing
A hugely popular service in recent years. With the introduction of the Beef Environmental Efficiency Programme (BEEP) the demand for this service has soared. At FRS Cahir we have been weighing stock for farmers for over a decade now both within the dairy and beef sectors.
Our service consists of sending an operator with  a digital scales to farmer and weighing his cattle on site. All weights and animal identities are stored on the digital scales and can be printed and given to the farmer after the job is completed.
Advantages of animal weighing:
Shows performance of stock to grass or meal being fed
Shows performance of suckler cow and calf
Will help in choosing replacement stock for breeding for both dairy and suckler herds
Can determine best breed of animal suited to a farm
Helps in the choosing of stock for slaughter
Informs the average daily gain of an animal from weighing to weighing
There is no ideal time to weigh stock but some guidelines we would suggest are.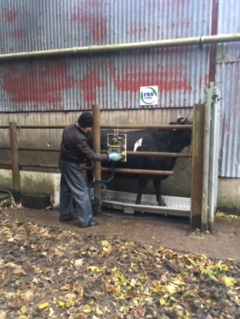 In the dairy sector calves should be weighed at the start of the housing season to give an indication of how far off they are from the target weight they need to be at for breeding. They should be weighed again at turnout again to determine are they near breeding weight or to determine if they need to be fed more meal at grass to reach optimum breeding rate. Finally they should be weighed at second housing to determine if they will be at optimum weight at calving down.
In the suckler herd calves should be weighed 2/3 times in their first year to determine performance.
Similarly to dairy stock they should be weighed at the start of housing and end of housing. Weighing prior to slaughter will give an indication of kill out ratio.